C2PA User Experience Guidance for Implementers
1. Introduction
The C2PA intends to provide clear guidance for implementers of provenance-enabled user experiences (UX). Developing these recommendations is an ongoing process that involves diverse stakeholders. The results will balance uniformity and familiarity with utility and flexibility for users across contexts, platforms, and devices. Our intent is to present a comprehensive range of conventions for the user experience and evolve them based on feedback. Please reference the Glossary in the C2PA Specifications for clarifications on terminology used within this document. For general guidance on other areas of the specification, please see Guidance for Implementors.
2. Principles
The UX recommendations aim to define best practices for presenting C2PA provenance to consumers. The recommendations strive to describe standard, readily recognizable experiences that:
provide asset creators a means to capture information and history about the content they are creating, and

provide asset consumers information and history about the content they are experiencing, thereby empowering them to understand where it came from and decide how much to trust it.
User interfaces designed for the consumption of C2PA provenance must be informed by the context of the asset. C2PA have studied four primary user groups and a collection of contexts in which C2PA assets are encountered. These user groups have been defined in the C2PA Guiding Principles as Consumers, Creators, Publishers and Verifiers (or Investigators). To serve the needs of each of these groups across common contexts, exemplary user interfaces are presented for many common cases. These are recommendations, not mandates, and we expect best practices to evolve.
2.1. Designing for trust
A unique aspect of this approach is that rather than attempt to determine the veracity of an asset for a user, it enables users themselves to judge by presenting the most salient and/or comprehensive provenance information. As such it is critical that users develop trust in the system itself, over the individual data presented. Exposing the C2PA Trust Model and Trust Signals in a way that balances transparency and intuitiveness is the critical design goal addressed here. There is no design pattern that can guarantee to engender trustworthiness across multiple contexts, and while a degree of contextual customization is anticipated, C2PA recommends all implementations adhere to the following general principles.
2.2. Quality
Implementations should be created using industry standard, robust user interface technologies.
2.4. Consistency
Wherever suitable, UX patterns should match those outlined here. In the case that this would break contextual paradigms of the platform, lean on precedent whether in the OS or app design. Users should not have to learn new paradigms or terminology in different contexts in order to access the information.
2.5. Summary vs comprehensive
In many cases, a subset of the available information will be the most useful to a user in a given context. A link to the full information should always be made available, however.
3. Levels of information disclosure
Because the complete set of C2PA data for a given asset can be overwhelming to a user, C2PA describes four levels of progressive disclosure which guide the designs:

Figure 1. Disclosure levels
Level 1 (L1)

An indication that C2PA data is present and its cryptographic validation status.

Level 2 (L2)

A summary of C2PA data available for a given asset. Should provide enough information for the particular content, user, and context to allow the consumer to understand to a sufficient degree how the asset came to its current state.

Level 3 (L3)

A detailed display of all relevant provenance data. Note that the relevance of certain items over others is contextual and determined by the UX implementer.

Level 4 (L4)

For sophisticated, forensic investigatory usage, a standalone tool capable of revealing all the granular detail of signatures and trust signals is recommended. In addition to these standard levels, there will be common tools available for those interested in a full forensic view of the provenance data. This would reveal all available C2PA data across all manifests for an asset, including signature details.
4. L1 – indicator of C2PA data

Figure 2. The L1 indicator
4.1. Appearance
Following the consistency principle, it is important in developing trust that users can learn to easily recognize the presence of the system and that their expectations are met regardless of context. As such, the L1 indicator should be consistent in its appearance across all contexts and devices to the degree that it clearly represents the presence of C2PA data. L1 can be applied using only the icon, the title, or both. If using the icon alone, ensure its appearance meets accessibility criteria so that consumers can easily identify its presence on or near the C2PA-enabled content. We recommend using the placeholder "information seal" icon and working title "Content Credentials" for recognition and learned understanding of C2PA-enabled content. We may make updates to the icon and product name in upcoming versions of this document as we gather findings from on-going user research.
4.2. Placement and interaction
For flexibility across implementations, there are several recommended placements for L1 indicators when C2PA-enabled content is present: on top of the content or somewhere close enough that its relationship to the content is clear. If L1 is positioned on top of the content, a hover state may be applied so as not to permanently obstruct the content below. Applications may differ depending on device, such as revealing L1 via long-press on mobile. Partially overlapping the L1 indicator over content is the most robust option to avoid potential misuse in the scenario that it has been purposefully added to content in a way meant to deceive. A new user experience guidance is recommended for initial implementation rollout to make clear how to identify L1 indicators.
Behaviour of L1 indicators should reveal L2 progressive disclosure, either via a hover or click interaction. Within L2 user interfaces, L1 can continue to be used to indicate the presence of C2PA-enabled ingredients.
4.3. Validation states

Figure 3. L1 validation states
In the event that the active manifest is invalid, a stateful indicator of data validation can be displayed. There are several scenarios when displaying a data validation state may be necessary. See Chapter 14, Validation in the C2PA Technical Specifications for further information.
8. Media formats
8.1. Video
Since video is a temporal medium, it poses significant challenges to distilling provenance data into simple, consumer-friendly displays. This is due to the potential for high volumes of composited ingredients of varying media formats, applied complex edit actions, spanning multiple software and people. These UX recommendations are focused on a starting point for video provenance and will address more complex uses over time.
8.1.1. L1 in video player
A notable difference with video content is the necessity for a player for viewing. This limits the ways in which an L1 indicator of C2PA data can be placed on the content and interacted with, and may likely require an integration into the player itself. However, the L1 indicator may still be placed next to the video outside of the content.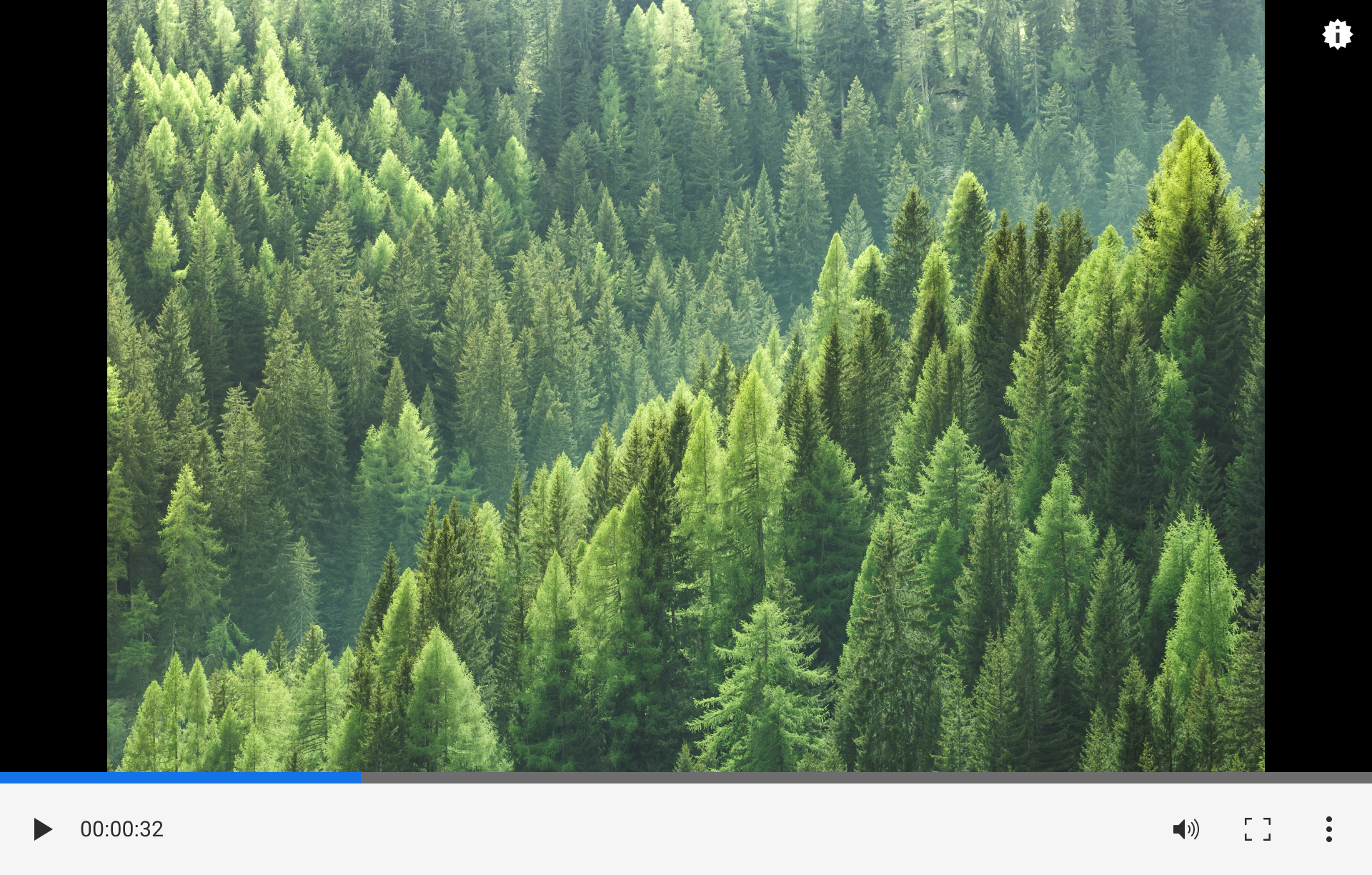 Figure 25. Video L1
8.1.2. Video L2 displays
Video L2 displays should largely follow the same patterns as described in L2 – progressive disclosures. However, for now we stop short of recommending the inclusion of ingredients or non-C2PA origin content due to the potential complexity of volume. Instead, we suggest showing a minimal manifest summary or provenance summary.
Figure 26. Video L2 minimum viable provenance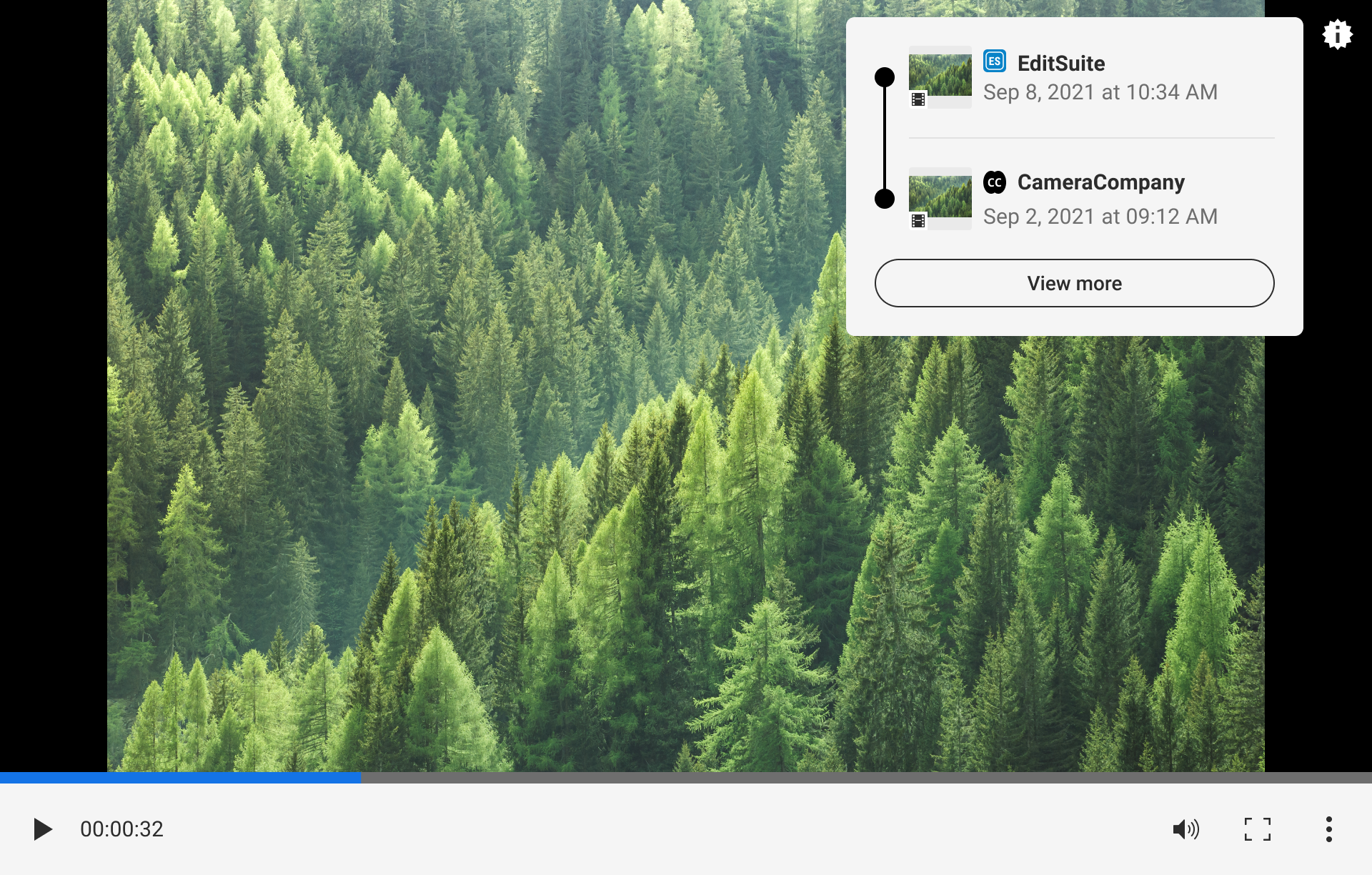 Figure 27. Video L2 provenance summary
An important detail for video UX is the L2 thumbnail displays. Read more on thumbnails here. Specifically in the case of video, to help distinguish these assets from images, a filmstrip icon is added to the thumbnail to depict its media type. If the video asset containing the active manifest is playable, the media type icon should depict a play icon. However, even if the initial asset is a playable video, its ingredients may be static representations.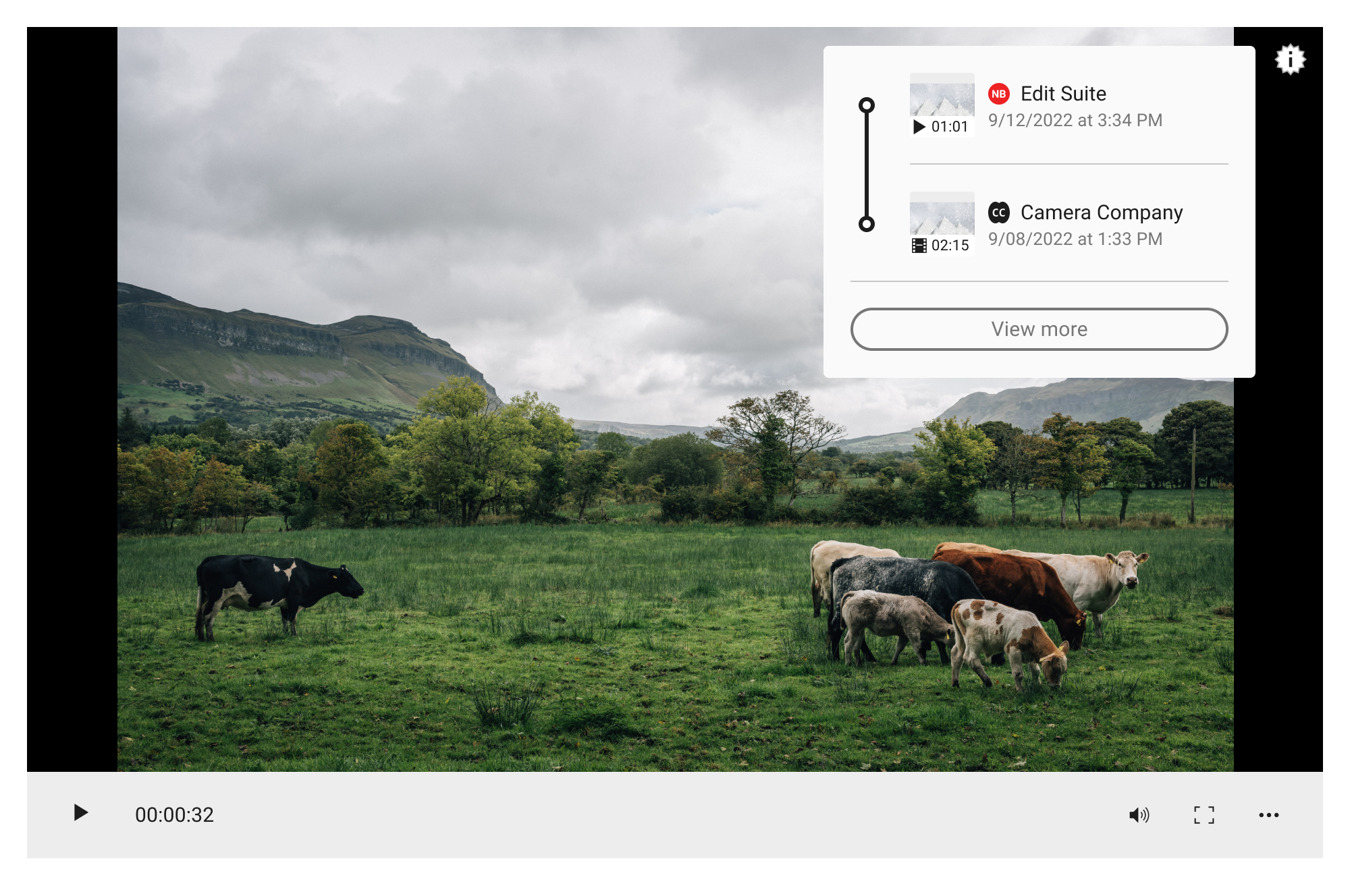 Figure 28. Video L2 thumbnails with duration
Time-based information like duration and time ranges can help users quickly understand at a high level where changes have been applied.
8.1.3. Considerations for video provenance
Video assets present more complexities than their image counterparts. Videos may be comprised of a significant number of ingredients across multiple media types, so consideration to navigation across a provenance tree structure is warranted. It also may not be possible to show video thumbnails for the active manifest and its ingredients, since embedding video previews of these assets may lead to prohibitively large manifests.
Playback of video assets may also be hampered by the fact that browsers only support a subset of the video/audio codecs that C2PA does. Additionally, some of those codecs are patent-encumbered (e.g. H.265) so even if they are transcoded into web-friendly formats for viewing from a technical standpoint, there may be some issues from a legal standpoint.
8.1.4. Next steps for video
We are developing UX guidelines for a provenance-based timeline, which we anticipate providing as part of L3 recommendations in the next version of this document. As the video containing the active manifest plays, different ingredients, actions, or other time-based assertion data could be highlighted in realtime for a more immersive experience. Similarly, time-coded assertions present another navigational method for exploring provenance information.
8.2. Thumbnails
Since provenance data can be added to any media type, 'thumbnails' here should be thought of in the broadest, multi-media sense. They should not necessarily be limited to static pixel based representations of all media types. A 'snippet' of audio for example could be considered all or part of a 'thumbnail' for an audio file. Taking a multi-media, dynamic approach where possible should make thumbnails more helpful to users as they will be media appropriate. Implemented well, it will also help to aid accessibility.
Thumbnails serve different purposes in different contexts (simple recognition, parsing large media sets, promotion etc.) but in the context of provenance the guiding principles for their inclusion should be helping users to understand the history and attribution of media and to engender trust.
Amongst media types (image, video, audio, docs, 3D models etc.) single image thumbnails are unique in that they are (from a user's perspective) simply a smaller version of the actual file - a 'complete' yet compact instance of the same media. In our context this can be helpful since it allows users to more easily interpret provenance chains by simply scanning through these approximations. This cannot be replicated with other more complex media types and so consideration should be given to how to create meaningful but succinct representations.
Depending on the media type, a meaningful 'thumbnail' can be comprised of more than one element (but does not need to include all). The below example uses video as an example but is intended to demonstrate how the different elements can be used to create a thumbnail of any kind.
Figure 29. Anatomy of a thumbnail
Interactions (i.e. hover or long press to skip through a sequence or swipe to rotate model)

Where relevant, an L1 indication of provenance

Some representation of the media (see below for different approaches)

Data (i.e. media duration for temporal media)

Relevant iconography
| | | |
| --- | --- | --- |
| PLACEHOLDER | PREVIEW | POSTER |
| A default, static media type representation (i.e. a file icon to represent text, a particular piece of haptic feedback pattern to denote audio etc.). This is distinct from iconography as it could be a fallback placeholder in the slot where PREVIEW or POSTER might sit | The representation is manually or automatically derived from the media according to some rule (i.e. the first frame of the video, the lead image in a document, a 3/4 angle shot of a model) this could sit on a scale of simple (i.e. frame x) to sophisticated (i.e. face detection, popular moments or a sample sequence that plays through via user interaction) | A separate piece of media is created by human and/or machine to represent the media. It may well contain elements/treatments not necessarily present in the media i.e. typography used as a title or stylistic rendering. |
Since the media, context and use case will vary we do not seek to dictate which approach is best however it is recommended that whatever approach is taken remains consistent across manifests when displaying provenance chains. Swapping between say, a PREVIEW and POSTER approach risks confusing users as to what media is being referred to. It is also recommended that whatever combination of elements (Representation, iconography, data, etc.) remains consistent across manifests.
It is recommended that for all media types, of the possible elements, alongside the appropriate Media representation, Iconography is always used. This should help to distinguish media types that may otherwise appear similar i.e. if an image was chosen to represent a document file it could be confused for an image file.
In the case of temporal media (audio/video/3D scene), it is also recommended that duration data is included. Duration could be helpful to a user when comparing manifests since changes to it could be meaningful. This is also a good example of the importance of consistency. If the duration is featured intermittently, this will not only make it harder to interpret, It could even result in the user mistaking some manifests as of a different media type since they have built a mental model of what to expect for a given type.
The table below sets out some suggestions for how the various elements might come together to form multi-faceted 'thumbnails' for different media types. In the case of iconography/interactions it is acknowledged that different platforms may have existing patterns and so examples here are for illustration only.
| | | | | |
| --- | --- | --- | --- | --- |
| Media Type | Media Representation | Iconography | Data | Interactions (suggestions only) |
| Image (single) | Thumbnail image | n/a | n/a | Expand to inspect |
| Image (multi-picture) | Thumbnail images | TBD | No of images | Skip through images |
| Video | 'Placeholder'/'Preview'/'Poster' | i.e. Movie clip icon (to distinguish it from the full playable asset which would use the play icon) | Duration | Skip through key frames / Play sub section |
| Audio | 'Placeholder'/'Preview'/'Poster' | i.e. Speaker icon (to distinguish it from a playable asset which would use the play icon) | Duration | Play sub section |
| Document | 'Placeholder'/'Preview'/'Poster' | i.e. File icon | File size | |
| 3D Model/scene | 'Placeholder'/'Preview'/'Poster' | i.e. Cube icon | Duration (if scene) | Rotate and zoom, 'Quick look' in AR |
*A note on the 'POSTER' approach to media representation. This could require its own provenance chain, or it could be treated as an ingredient to the associated media and thus handled as just another sub-branch therein.
10. Communication and education
To ensure user comprehension, it is crucial that implementers consider how their audiences are introduced to C2PA provenance data and the value to be gained from engaging with it. We recommend providing creator and consumer educational experiences and strongly encourage the use of language consistent to what is provided in these guidelines. Keeping communication and education aligned is a key part of promoting comprehension, value, and adoption of C2PA data by implementers, creators, and consumers.
Depending on the implementer's platform and audience, there are different ways to effectively incorporate education around C2PA data. We suggest utilizing standard UI elements like links, tooltips, and modals to provide users with opportunities to seek out more information regarding the implementation or a component piece within. Certain L2 UI elements, like assertion categories, may warrant additional explanations to ensure user comprehension. For larger and more detailed explanations, implementers should consider linking out to FAQs or dedicated information pages so audiences can learn more about C2PA from a native product voice. However, when making content customizations, make sure things like brand voice are not prioritized in sacrifice of clarity and user comprehension.
11. Open issues
11.1. User research
Correctly identifying and displaying trust signals is of paramount concern for our overall user experience. C2PA strives to understand the value consumers will apply to content attribution through ongoing user research studies and usability testing.
11.2. Applications, use cases, and additional media formats
Pending user research, C2PA will provide implementors with recommended L2 customizations based on combinations of content, audiences, and platforms. Examples may include news publishers, social sites, e-commerce and retail, travel, and entertainment platforms. The recommendations for video UX will also continue to expand in scope and complexity, along with the introduction of other media formats like audio and streaming content.
12. Public review, feedback and evolution
The team authoring the UX recommendations is cognizant of its limitations and potential biases, recognizing that feedback, review, user testing and ongoing evolution is a requirement for success. This guidance is therefore an evolving document, informed by real world experiences deploying C2PA UX across a wide variety of applications and scenarios.